Angelfire by Courtney Allison Moulton
Rating: 5/5
Source: Netgalley
Synopsis
:
When seventeen-year-old Ellie starts seeing reapers - monstrous creatures who devour humans and send their souls to Hell - she finds herself on the front lines of a supernatural war between archangels and the Fallen and faced with the possible destruction of her soul.

A mysterious boy named Will reveals she is the reincarnation of an ancient warrior, the only one capable of wielding swords of angelfire to fight the reapers, and he is an immortal sworn to protect her in battle. Now that Ellie's powers have been awakened, a powerful reaper called Bastian has come forward to challenge her. He has employed a fierce assassin to eliminate her - an assassin who has already killed her once.

While balancing her dwindling social life and reaper-hunting duties, she and Will discover Bastian is searching for a dormant creature believed to be a true soul reaper. Bastian plans to use this weapon to ignite the End of Days and to destroy Ellie's soul, ending her rebirth cycle forever. Now, she must face an army of Bastian's most frightening reapers, prevent the soul reaper from consuming her soul, and uncover the secrets of her past lives - including truths that may be too frightening to remember.
Review: OHMYGOD. HOW AMAZING WAS THIS BOOK? I am still reeling from its awesomeness. A little bit dazed still.

Angelfire was the perfect read for me to cuddle up with in midst of all the rain in California. Like an open fire, it was warm and bright, setting off many sparks for my eyes to see. Not only were the characters molded into such beautiful beings by the author, but the story itself had a life of its own. It breathed and it lived, like all books should. The only qualm I have about this book--ONLY one--is that the beginning was a bit slow. It was a nice introduction into Ellie's life but it dragged. The upside to the beginning, though, was KATE. I LOVED KATE. I wish all best friends were that awesome.
I loved, loved, loved Ellie!!! I developed such a strong connection with her that I wasn't able to do with many other YA characters. When she felt frustrated, I was pulling out my hair with her. I felt like I was going through every event in the story along with her. I even had mini spasms throughout her sword-pwning battles. Every time she was in the middle of a fight with a reaper, I had to constantly remind myself that she was going to make it through! I mean, there was another two hundred pages after this scene. SHE WAS GOING TO LIVE, RIGHT? RIGHT? Well, with this book, you never really know. Bravo to the author for keeping you on your toes and guessing throughout. It's not a work of fluff and romance. Angelfire is the perfect balance of romance and action.
Angelfire is a book that will make you giddy and grin like an idiot. You will squeal like a crazy fangirl over Ellie and Will's endearing romance. You will get weird looks from your mother and possibly forget to eat because you just can't put this book down. And when it ends? You'll be wanting to trade your soul to the reapers for more.
(Let me digress... Since it is the holidays, I have a tradition with my sisters: We have a Sailor Moon YouTube/VHS marathon because...well... just because!! O_O DO NOT JUDGE. I am currently watching Season 3 episodes and well, I AM STILL HIGH ON SAILOR MOON. [again, do not judge xD] AND I LOVE GIFS so voila! Plus I am getting tired of my "What I thought of..." parts in my reviews SO I AM CHANGING IT UP!)
~~A Reviewer's Journey GIF Style~~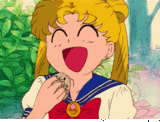 OH MY GOD. ELLIE AND WILL ARE SO CUTE. AH!H!H!H!H
GO ELLIE!!!! KILL ALL THEM PATHETIC REAPERS. REALIZE YOUR LOVE FOR WILL. YOU LOVE HIM. YOU LOVE HIM! YOU MUST LOVE HIM.
The End:
NO, ANGELFIRE. YOU CANNOT END. You must last FOREVAAHH! SOB.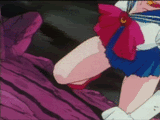 No! IT HAS ENDED! NOOOooo000oo.*stares at book for another half hour*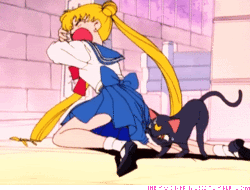 TAKE MY SOUL. TAKE MY SOUL. PLEASEEEEE. I NEED THE NEXT BOOK!! PLEAASSEE.
And for all you Sailor Moon fans out there: Angelfire is like heaven for people like us. Ellie and Will? They are about as epic as Sailor Moon and Tuxedo Mask. Now that is saying something.
Yup. Read it. Read it now. Or Sailor Moon will punish you.