The Survivors by Amanda Havard
Rating: 4/5
Synopsis
:
In 1692, when witch trials gripped the community of Salem, Massachusetts, twenty-six children were accused as witches, exiled, and left for dead. Fourteen of them survived.
The Survivors is the first installment of the tantalizing tales of the fourteen ill-fated Survivors and their descendants, who have been content in hiding for over three centuries. Isolated on a Montana mountainside, only Sadie, the rogue daughter, dares to abandon the family's sacred hiding place. But no matter how far Sadie runs, something always pulls her back.
On a muggy summer night in Tennessee, she witnesses a shocking scene that will change her life forever. It is the first in a sequence of events that will drag her from the human world she's sought to belong to for over a century and send her back to her Puritanical family and into an uncertain future filled with cunning witches, mysterious nosferatu shape-shifters, dangerous eretica and vieczy vampires, millennia-old mythology, and the search for her own mortality. After all...
HOW DO YOU KILL A SURVIVOR?
The Survivors will steal your heart and invade your mind. Fall into the pages of Sadie's life, a world so frighteningly similar to your own, you'll find yourself wanting to go to the Montana mountains to find the Survivors for yourself.
And it is only the beginning.
Review: Never has a book taken me by surprise SO much. I really hadn't expected The Survivors to be anything out of the ordinary, but, whoa, it was amazing! The whole book in general is so ridiculously awesome that I still cannot fathom the fact that it's over. I really regret underestimating the degree of its appeal.
With very developed characters and an intricate plot line, The Survivors keeps readers hooked on from page 1. You're probably going to hear this sentence a lot in other reviews of this book, but it's very true--the protagonist is so relatable. Which brings me to the conclusion that this book is not just a book, it's almost having a conversation with Sadie herself and having her tell you every little detail going on in her life. And even if she is different from us, we're going to be able to draw the similarities out. Every emotion that Sadie will feel--confliction, anticipation, love, fear? (LOVE, repeated again just for emphasis, cuz ya now, Sadie steals many hearts in this book) You're going to feel it too. (And yes, you will yell at her. I did. Very often...No, I am not weird! O_O'')
The language Havard uses is very smart and natural that you actually feel smarter when you read the words from the page. And then there was that one scene where I should have KNOWN what was going to happen, but fjsldfjsljj! AHH. I AM STILL IN SHOCK. OHMYGOSH.
I'm not really sure how I feel about the romance aspect of this book. I would have liked to see her relationship(s) develop a bit slower. I do not know if it is the fangirl inside of me, but I just couldn't see why she fell in love with Other Guy. I do not even want to comment on Other Guy.
...But uh, COLE PWNS EVERETT. Every day of the week. Every second of the day. Every inch to the sky!! O_O So if you read this book and you take a liking to Other Guy, I'm afraid we cannot be friends anymore...(not even if you bake me cookies! And yes, I WILL be judging you XD)
On a more serious note, to me, The Survivors really isn't even paranormal. It's unlike any paranormal book I've read--very smart, very fresh, and very addictive, and very still in my mind. But a word to the wise, you won't be able to put this one down once you start (unless you are craaazyyy and not even a good crazy like me...). Read it now if you haven't! I do not know how long I can SURVIVE without the second book in my hand. Watch out, Amanda. *creepy laughter* xD!
And now, let the fangirling begin!
~~A Reviewer's Journey GIF Style~~
The Beginning: *got it out* Okay, let's read...*five seconds later* OMGOMGOMGOMGOMGOMG!! *Cole appears* ME: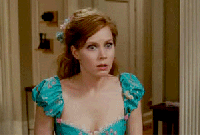 The Middle: OHMYGOSH! WHAT IS HAPPENING? *is eaten up by Amanda Havard's world of epic proportions*
Mom: Come out for dinner! Me: WHO NEEDS TO EAT? I HAVE THIS INVISIBLE CORN OF DISBELIEF TO CHEW ON!! O_O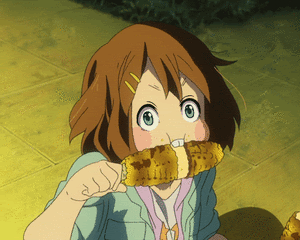 WHAT THE HECK ARE YOU DOING SADIE? WHERE'S SWEET, SWEET COLE? Other Guy, you need to find a hole and jump in it and dieeeeee.

O_O OH. MY. GOD. FJSKFJKSLDJF WHAT WHAT WHAT. HOW IS THIS POSSIBLE. * FLIPS PAGES BACK AND FORTH* It all makes sense now o_____o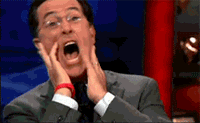 The End: No, it's over. *SOBSOBSOBSOBSOB* HOW COULD YOU, AMANDA HAVARD? I HOW COULD YOU JUST END THE SNEAK PEEK OF BOOK 2 LIKE THIS? sobsobsob.
You all need to read it now!
---
1) I recently conducted a Twitter interview with Sadie herself along with
The Book Pixie
! To view it, just click
this
[edit: updated link
here
for FULL interview]! (BOWL FOREVER!)
2) Have you heard the GORGEOUS song that goes along with this book? It was just released and honestly, it has been on repeat the whole day yesterday. I'll embed it down below...
Less than three, folks. LESS THAN THREE!~